Activities
Garden Visit - Savill Garden - 1st June
Consideration is being given to arrange a visit to the Savill Garden at Windsor on Saturday 1st June.  The options are either a self drive visit to arrive at 11.45am at a group cost of £10 or, if there is sufficient support, a coach would be hired at an additional cost of £12 per person.
There are forms at the Trading Store on which to record your interest.
Garden Visit - Lindegate - 19th June
A visit has been arranged to the Lindegate Charity Garden for Wednesday 19th June, starting at 6pm. There will be a guided tour of the garden and a talk about the charity's work. Refreshments will be provided.  You can relax and walk around the garden at your leisure.
The garden is next to the Wyevale Garden Centre, Aylesbury Road, Wendover, HP22 6BD.
Forms will be at the store from beginning of April to book your place on this visit.
Coach Trip - RHS Garden Hyde Hall - 3rd August
It is intended to run a coach trip the Royal Horticultural Gardens at Hyde Hall on Saturday 3rd August. This is the occasion of their Flower Show so, as well as a very attractive garden to visit, there will be many stalls selling plants, all manner of garden requisites (and food and drink). The cost will be £16.
Annual Show - 21st September
The Annual Show will be held on  Saturday 21st September.
For more information go to the Show section of this web site.
Coach Trip - Malvern Autumn Show - 28th September
It is intended to run a coach trip to the Malvern Autumn Show on Saturday 28th September. Always plenty to see at this show and for those with an interest in vegetables there is the 'Largest Vegetable' competition. The cost will be £31.
Annual General Meeting 2019
The Annual General Meeting of the Society was held at Aylesbury Grammar School on Friday 11th January 2019.
The president opened the meeting with the sad news that our treasurer, Mr Graham Webster, had recently died.
The following were elected as officers of the Society:
President: Mr. R. James
Chairman: Mr. K. Keasley
Vice chairman: Mr. C. Gray
Treasurer: Mrs H Murray
Secretary: Mr J Benham
The following were re-elected to serve on the committee for a further 3 years:
Mr D Johnston, Mr D Meakin, Mr D Paternoster, Mr R Powell and Mr B Saunders.
In recognition of his contribution to the Society Mr Michael Griffin was elected as a Life Member of the Society.
After the meeting we were entertained by Mr Ian Currie. His subject was of great interest to us all - the weather! 
Tribute to Mr Graham Webster
As a tribute to Mr Graham Webster, the Society is running a 'Potato' Challenge
All procedes will go to the charity Lymphoma Action, a charity well supported by Graham.
A free 17lt potato growing bag and a potato of your choice from our stock will be available from the Trading Store at Old Stoke Road Allotment Site (HP21 8DF) on Sunday openings (9am to 12noon).  We ask for a minimum donation of £1.50 to the Lymphoma charity.  It will be for you to grow the potato on, using whatever compost/fertilizer you wish.
We then ask for you to bring the bag to the store on any Sunday up to 8th September to have the crop weighed. CHANGE OF PROCEDURE: BECAUSE OF THE HIGH NUMBER OF ENTRANTS WE ASK THAT YOU JUST BRING THE POTATOES FOR WEIGHING AT THE STORE.
The producer of the heaviest crop will receive a voucher to the value of £10, to be spent at the store. If the winner is not already a member of the society, membership will be given to cover up to the end of year 2020.
Schools' Potato Challenge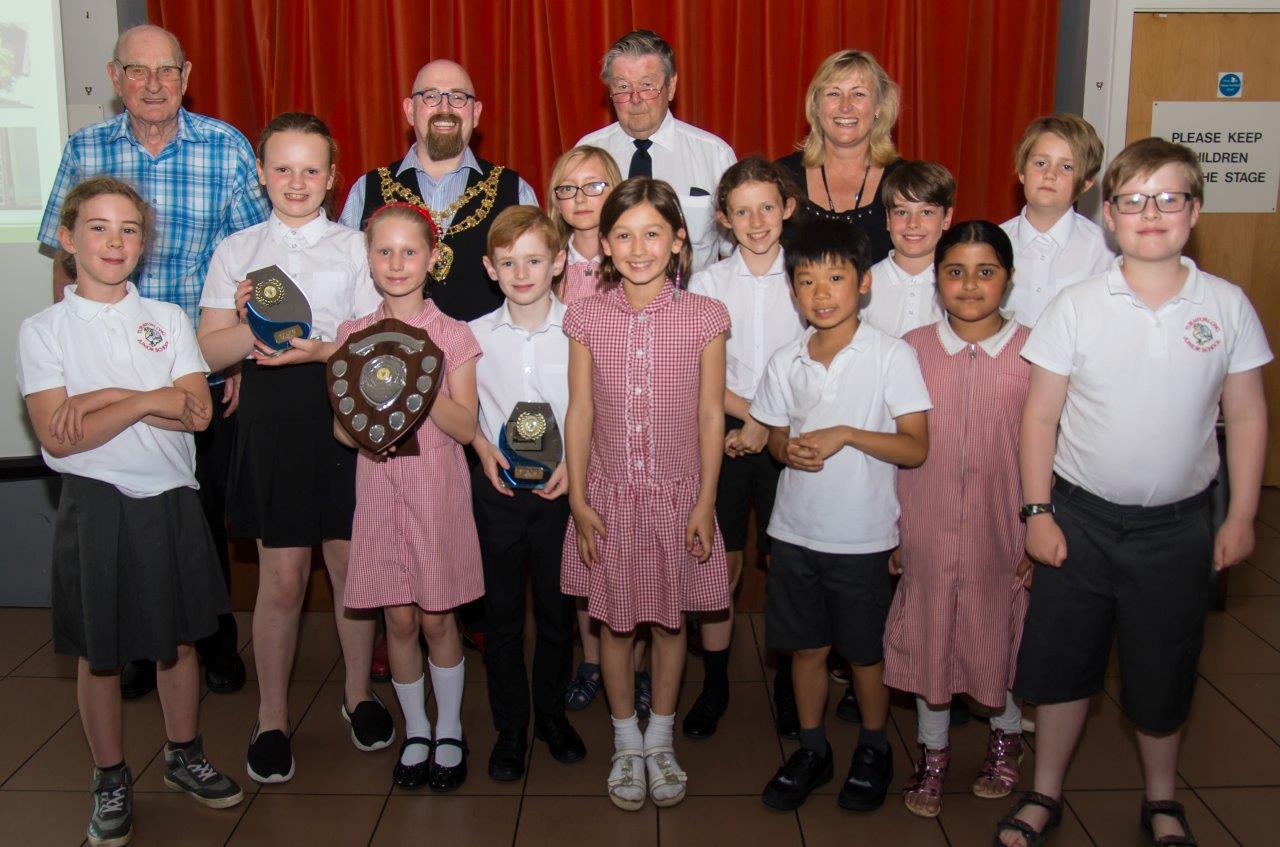 For the fifth year the Society has run the Schools Potato Challenge: fourteen entrants completed the competition. These schools were Bedgrove Infant (4 entrants), Broughton Infant, Broughton Junior, Harding House 6th Form, Haydon Abbey, Pebble Brook (2 classes), St Joseph's Catholic Infant, Stocklake Park, Turnfurlong Junior and William Harding Combined.
Each school was provided with three 17lt potato growing bags; compost; 3 seed potatoes (one each of Abbot, Kestrel and Red Duke of York) and a small quantity of organic fertiliser.
The resulting crops were weighed in early July and the top 3 schools were:
Turnfurlong Junior School with a total of 4.0kg
Bedgrove Infant School A with a total of 3.860kg
Bedgrove Infant School HP with a total of 3.110kg
The heaviest single bag was grown by:
Turnfurlong Junior School - their Kestrel potatoes weighed in at 1.710kg
An awards ceremony took place on 5th July, in conjunction with the Town Council ceremony. Our president, Mr Ray James, presented the Ann Miles Trophy to the winning school. Also, the winners, 2nd and 3rd and the heaviest single bag winner were presented with engraved glass trophies. The Ann Miles Trophy will be held for one year.
The Schools Potato Challenge is being run again this year. 
Our thanks to BHGS Ltd, our suppliers of horticultural products, who have donated the compost for this year's bumper number of entrants.